Switch and PS Vita physical release of A Hole New World
Switch and PS Vita physical release of A Hole New World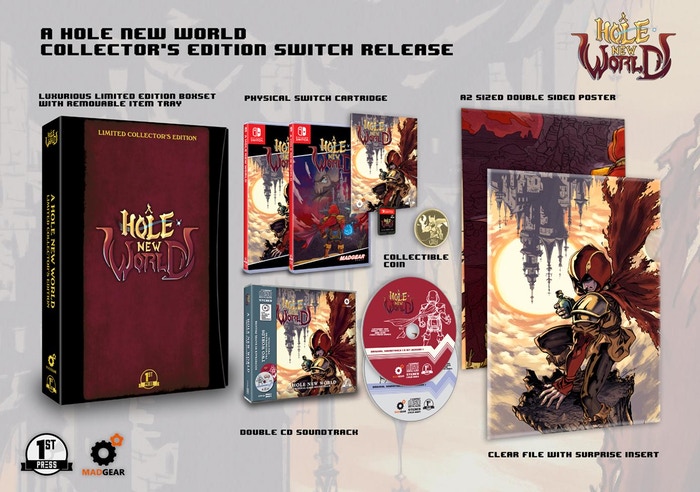 It's our great pleasure to announce that the Nintendo Switch physical release of A Hole New World will be on sale Today! You can get the Regular and the Collector's edition at First Press Games: https://firstpressgames.com/collections/a-hole-new-world
Coming up next we have also a Sony PS Vita physical release of A Hole New World that will be available starting on July 25th! Get it also thanks to Eastasiasoft: https://www.play-asia.com/a-hole-new-world-limited-edition/13/70cuoj
UPDATE ON NINTENDO SWITCH VERSION AND PHYSICAL DELIVERY DATES:
Due to the report of some bugs present in the Switch version, as major as not saving the game after beating the last boss, we have been working hard with Dolores Entertainment on a fix so First Press could release a reliable physical version.
We have to apologize for the long time needed to fix those bugs and for being unable to deliver the game build to First Press in time for production. Because of that, we have caused a delay in delivery of the physical release.
According to Nintendo's confirmed ESD of the physical version, First Press will have the production on hand on 22nd of October and should be able to assemble the orders for shipping within the same week.
On the bright side, you will get a much more refined experience out of your physical copy. We kindly ask for your understanding and hope you will enjoy our game thoroughly when it will be shipped next month. We already saw the prototypes of the merchandise and packaging first-hand during Tokyo Game Show 2019 and we are sure you will love what they've prepared for this release.